"Everybody Gets Infected With It"
May 27th, 2021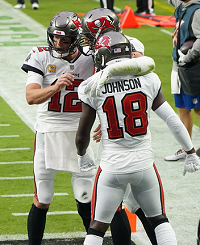 When a 12-time Pro Bowler talks, Joe pays attention.
Few guys walking the planet have that resumé, and one of them is Hall of Fame guard Will Shields, a Chiefs stud of the 1990s and 2000s. The dude never missed a game in his 14-year career.
(Fun fact: A certain Super Bowl-winning general manager was Shields' backup at Nebraska before the future GM realized he'd rarely see the field much with Shields ahead of him on the depth chart and transferred to Nebraska Wesleyan).
Anyway, Joe's writing about Shields because he was talking about what's known as the Tom Brady Effect.
Shields entered the NFL as a Chiefs third-round pick when then-superhero QB Joe Montana had just arrived in Kansas City with four rings and a task to put the Chiefs over the top.
Sheilds told CBS Sports Radio that Montana detailing to players in the huddle exactly what he needed to make a play happen, and then having it execute, built an allegiance and an inspiration within the entire offense.
"And once you get guys that play off each other, it becomes that storm to where everybody gets infected with it," Shields said. "And everybody just assumes, 'I'm the next up to make that play. 'I'm the next to do something big.' And it's not that they're playing out of their role, it's just it elevates everything around you.'
Not surprising, Shields put Tyreek Hill and Patrick Mahomes in the class of player that demands — and gets — more from teammates just because of his immense talent and execution. But those guys are rare in the game.
When it comes to a Brady-Montana type quarterback, Shields said a lot of their effect comes back to execution in practice leaving players awestruck and eager to raise their games.