Bruce Arians Talks About The QB Incubator
May 1st, 2021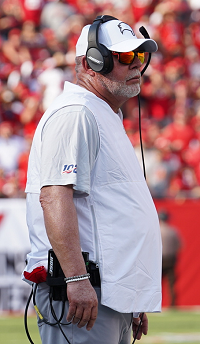 The quarterback hatchling is in the house, and Joe is so damn excited to see what happens when he leaves the nest for a preseason flight.
Joe has written during the draft build-up of 2019, 2020 and 2021 that the Bucs should take advantage of their coaches to develop a QB. Guru Tom Moore, along with Clyde Christensen, Bucco Bruce Arians and Byron Leftwich — what a diverse group with experience and savvy they are.
Finally, last night, the Bucs made their move with Gators QB Kyle Trask to close Round 2.
Yeah, it's early, Joe told Arians after Day 2 of the draft; but Coach, how do you envisions the coaching of the rookie playing out with all those cooks in the stew?
"He's coming into a great situation, Arians said of Trask. You know, between Clyde fundamentally, Byron systematically, Tom Moore to bounces questions off of, I'll stay out of the hell out of the way and won't screw him up. But he's in a very, very good situation to learn from Tom [Brady] and Blaine [Gabbert] and everybody else."
Joe was intrigued to hear the breakdown from Arians. And, of course, Arians is joking about screwing up the rookie, and it's worth noting that Gabbert isn't on the roster. Not yet.
It's easy to say that Trask isn't under pressure, but if he's wired the way Arians wants him to be, Joe suspects Trask will be acting as if he's under a load of pressure — internal pressure to win the primary-backup gig in commanding fashion.
It's May, folks, preseason football in about 100 short days.