Bruce Arians Shares His Speech To Refs About Ryan Jensen
May 21st, 2021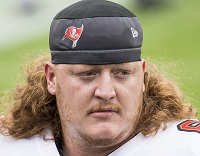 It sounds like years down the line, when Bucco Bruce Arians is sitting on a lake boat drinking Manhattans with Tom Moore, center Ryan Jensen will be talked about as one of Arians' all-time favorites.
Arians talked about Jensen on the Green Light podcast recently and used the same tonal reverence as when he shared a Larry Fitzgerald story.
Jensen, of course, is well known for playing harder than most offensive linemen.
"I love the way Ryan plays, man," Arians said. "You know he's one of those marked guys, and every referee crew comes up and they've got somebody they're marked. Whether it be a guy that rushes the passer all the time or takes a shot here or there, [Ndamukong] Suh was that way for a long time. And I always tell the refs, 'Hey, dude, [Jensen is] going to play to the whistle. If he does something extra-curricular, warn him or penalize him. But he's going to play to the whistle, all right. If you don't like finishing people off, then you shouldn't be in the business."'
At 29 years old and in a contract year, it's a huge 2021 season ahead for Jensen.
In 2018, Jensen was not the player the Bucs thought they purchased for top dollar. But in the past two years they got their big-money's worth.
Joe can only assume Jensen will continue his violent play, which has been working very well. He's for more durable than the last expensive, four-year-starter center the Bucs purchased. That would be "Saltines and anchovies" Jeff Faine.
(Yeah, that Saltines and anchovies story put Joe on Faine's sh*t list.)