Trading Down For Travis Etienne?
April 17th, 2021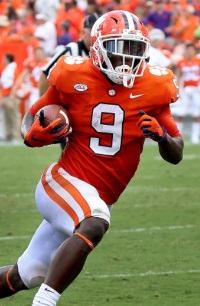 More and more consensus is building that Clemson stud senior running back Travis Etienne, a guy Joe is very fond of, will be a second-round pick in two short weeks.
Joe sees the mock drafts and also was intrigued to hear longtime NFL running backs coach Kyle Caskey break down running backs in the draft this week on SiriusXM NFL Radio. Caskey, strictly evaluating talent and not peddling in mock drafts, said he's evaluating just one first-round running back on film. And that's Najee Harris out of Alabama.
As for Etienne, Caskey sees him as a notch behind Javonte Williams out of North Carolina. He rates both as second-round picks and, most interestingly, he compared Etienne to Lions running back D'Andre Swift.
Caskey was Swift's coach last season, his rookie year. Fantasy football players know Swift well; he racked up 10 touchdowns (8 rushing, 2 receiving) and averaged 4.6 yards per carry with 46 catches. (Caskey also was the longtime coach of new Bucs running back Giovani Bernard.)
Smith was the third pick of Round 2 last year. Man, Joe would love Etienne as an inexpensive second-round pick after a trade down out of No. 32 overall.
It's a safe bet that either Ronald Jones or Leonard Fournette will have a new address in 2020. And it's an even safer bet that depth at running back is critical for — and to — Tom Brady.
Etienne had nearly double the college workload of his ACC brother Williams, who was more explosive last season. College mileage is always a consideration, but Etienne has the proven versatility the Bucs likely are seeking — if they're seeking a running back at all.
And before someone starts barking about the Bucs having five running backs, it's not unheard of. And with a 17-game season that easily could turn into a 21-game season, Joe's not scoffing at drafting a versatile and talented running back.