Tom Brady: Julian Edelman Was Too Scared To Tell Belichick He Wanted To Be In Tampa
April 30th, 2021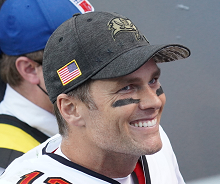 Lots of fun on the NFL Draft-A-Thon, an annual online charity effort by the league.
Tom Brady made another appearance yesterday, as he did last year, and was busting out all kinds of one-liners.
Deion Sanders told Brady he was stunned that Patriots receiver Julian Edelman retired without Brady intervening to get him to the Buccaneers.
"We know Julian didn't retire. Let's be honest. He was just too scared to tell Bill [Belichick] he wanted to come to Tampa," Brady said. "I've been there."
Edelman was on the Zoom call and laughed but didn't say Brady was wrong. However, Edelman said he was "done" playing and will share all his Brady secrets when he joins Showtime network's football coverage soon.