The Bucs And Avery Williams
April 2nd, 2021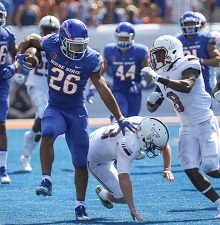 It's fun to puff your chest out, bark at your annoying Browns-fan neighbor and declare Tampa Bay has no needs entering the 2021 NFL Draft.
It's a fair statement. But there's always room for improvement and adding stiff competition at a position is almost always a positive.
That's one thing that made the Bucs' 2020 run to the Super Bowl so intriguing. They gifted starting jobs in the secondary to a bunch of young kids and it all worked out perfectly.
Still, Joe would love to see the Bucs bring in more talent in the defensive backfield and preferably a guy who could be a dangerous return man. The Bucs tried to make recently-departed Ryan Smith that guy back in 2016. But as a rookie he turned out to be horrendous as a kick returner, averaging less than 17 yards per attempt, which is hard to do.
Enter 2021 draft prospect Avery Williams, a too-small cornerback out of Boise State. At 5-8, 195 pounds, he's an explosive force who scored nine special teams touchdowns in college and blocked five kicks/punts. A 4.4 40-yard-dash time this week has opened more eyes to the two-time Mountain West Special Teams Player of the Year.
Joe would love to see the Bucs select an interesting project like Williams late in the draft, a guy who potentially could be a difference-maker returner immediately.