Robert Hainsey: Notre Dame OT, Florida Schooled
April 30th, 2021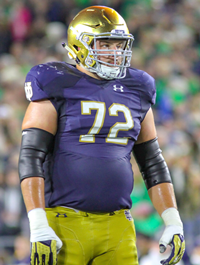 On the surface, there is nothing not to like about new Bucs tackle Robert Hainsey.
In recent years, Notre Dame has pumped out some damn good NFL offensive linemen. Even though Notre Dame is sort of an ACC school (when it wants to be for their benefit only), the program is built like a traditional B1G program: Big, nasty offensive linemen.
Hey, the school is located in northwest Indiana. What would you expect?
In a video about Hainsey on YouTube that was produced by Notre Dame when he signed out of IMG Academy in Bradenton, Hainsey was described as "athletic" and "intense."
And given that he played high school ball in Bradenton, despite being at a rust belt college, Hainsey is used to the west-central Florida sun. Joe likes that.