Identifying The Bucs' Biggest Need
April 1st, 2021
BY IRA KAUFMAN
They're all gone, baby, gone.
Wave goodbye to the 2016 draft class. Raise a glass and bid farewell to Vernon Hargreaves, Noah Spence, Roberto Aguayo, Ryan Smith, Caleb Benenoch, Devante Bond and Dan Vitale. That's the F Troop rookie squad which greeted first-year head coach Dirk Koetter and made Buc fans reach for the Tums.
They are also a reminder that this franchise hasn't always struck it rich with rookie studs like Tristan Wirfs and Antoine Winfield Jr.
Smith was the last holdout, signing with the Chargers this week as a free agent. He didn't help much as a defensive back, notching his only career interception in 2018 off Nick Mullens in a 27-9 rout of the 49ers, but he excelled on special teams.
He was a leader of that pack and his departure leaves Tampa Bay a little thin at cornerback. But Smith's exit also serves as a reminder of just how formidable this roster is shaping up heading into the draft at the end of the month.
For each of the past seven years, Jason Licht has told us about his plan to draft the best player available in every round. That sounds promising, but when the critical moment came, need usually trumped draft ratings.
That's how you end up with a Hargreaves, a Spence and an Aguayo.
Five years later, things have changed at One Buc Place. Have they ever.
Looking Within
Does this team have a glaring need at this point? Absolutely not.
Even if Antonio Brown signs elsewhere, Tom Brady still has plenty of worthy weapons. O.J. Howard potentially adds even more firepower. Ronald Jones and Leonard Fournette provide stability in the backfield and the offensive line was a team strength while the Bucs closed with an 8-game winning streak.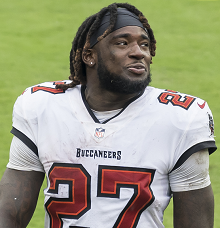 A healthy Vita Vea would bolster an already-stingy run defense while freeing up the edge rushers into more 1-on-1 matchups. Devin White and Lavonte David form the best linebacker tandem in the league. A young secondary kept improving and the kicking game looks solid.
These Bucs are now charged with the task of replacing a gunner on special teams.
Doesn't that kind of say it all?
Even the 2003 team, also coming off a Super Bowl, wasn't nearly this complete, especially on offense. Tight end Ken Dilger, left tackle Roman Oben and guards Kerry Jenkins and Cosey Coleman were on borrowed time. After two losing seasons, they would all be replaced by 2005.
This team is loaded and it's hard to imagine a member of the 2021 rookie class earning a starting job and making an immediate impact — barring an injury. This is a draft for depth, whether it's corner, edge rusher or an interior offensive lineman.
No other NFL team is in this cushy position.
The Chiefs need two offensive tackles. The Packers crave defensive playmakers. The Saints want more targets surrounding Jameis Winston.
The Seahawks can't protect Russell Wilson. Buffalo seeks a better running game. The Patriots need a quarterback.
Zeroing in on Tampa Bay's greatest need is easy … the Bucs need to guard against complacency.
Early Focus
Yes, Tom Brady is back to keep the train moving, but the 2003 Bucs had stalwart leaders like Derrick Brooks and John Lynch. Yet when Simeon Rice reflected back on a 7-9 season, he indicated some players were still looking up at the Super Bowl confetti instead of focusing on their jobs.
The same thing could happen this fall, yet the willingness of potential free agents to return here suggests this is a very motivated group. Bruce Arians is already promising a rigorous training camp. He doesn't want players getting too comfortable, and that's a good thing.
Collectively, the draft class of 2016 dropped the ball. Not as much will be expected from this year's rookie haul. Making a talent-laden roster will be an accomplishment all by itself.
First-year starters? Unlikely.
Gunners? Welcome.