"He's Going To Get You 4 To 6 Yards Every Time Because He Breaks Tackles"
April 25th, 2021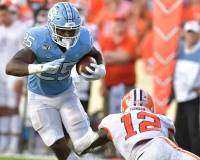 Based on intel from an unnamed scout, it seems like North Carolina running back Javonte Williams is a perfect fit for the Bucs.
Joe remembers shortly after the Super Bowl, Super Bowl-winning quarterback Phil Simms joined the one and only Chris "Mad Dog" Russo on SiriusXM Radio talking about the Bucs. Simms loved the combo of Ronald Jones and Playoff Lenny because he thought they were four- to five-yard grinders. And the way the Bucs' offensive line was built, Simms said, the Bucs offense is perfect for just getting four yards at a clip and grinding the clock down.
So when reading Bob McGinn of The Athletic construct his annual draft rankings based on intel from multiple sources — he's been covering the NFL for nearly four decades — one scout said Williams basically described a running back Simms says makes the Bucs' running game hum.
"He's a ground pounder," said one scout. "He's going to get you 4 to 6 yards every time because he breaks tackles. People bounce off him. He's a short, thick-hipped, thick-legged kid. He's got surprising speed. He can get to the corner, but you have to knock 'em all down for him to turn it."

Third-year junior with 366 carries for 2,297 yards (6.3) and 29 TDs plus 50 receptions. "He led the NCAA in broken tackles running between the tackles last year," said a second scout. "That's like Nick Chubb stuff. He is really assertive running in between the tackles."

From Wallace, N.C. "He might be a No. 3 (back) his first year, but he's getting carries," a third scout said. "This kid is better than (Detroit's) Jamaal Williams. He reminds me of Mike Davis as a runner. At some point this guy is a starter."
Nick Chubb. Tell Joe you wouldn't want Chubb as a Bucs running back?
Yes, Joe understands the Bucs still have RoJo and Playoff Lenny and Giovani Bernard. But each is in the final year of his contract. Joe doesn't expect Playoff Lenny to return. RoJo? Who knows. Bernard sounded in his press conference like if the Bucs win a ring, he's then chasing a check.
Whatever it takes to get the No. 32 pick on the field to make an impact and win games, that's what the Bucs need to do. And no position has an easier learning curve than running back.