"He Is A Phenomenal Coach"
April 14th, 2021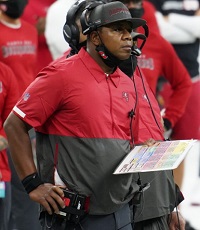 No one will ever accuse Bucs offensive coordinator Byron Leftwich of campaigning for a head coach position.
He shuns national interviews and doesn't seek the spotlight. Even mild-mannered Todd Bowles has done a handful of media sitdowns since winning the Super Bowl as Bucs defensive coordinator. Bowles wants a head coaching gig and has no problem saying so.
Bucco Bruce Arians firmly says it was stunning and shameful that Leftwich didn't get an interview last hiring season. Joe would blame some of that reality on Leftwich for maintaining such a low profile. So since Leftwich is so quiet, Joe feels compelled to share Leftwich love when it appears on the national stage.
Retired 10-year NFL guard Alex Boone was raving about Leftwich on SiriusXM NFL Radio yesterday.
"I played with Byron, you know, and he is a phenomenal coach," Boone said. "And I love his mindset and his intellect, and the way that he approaches his game. And the fact that he is an offensive coordinator now, nobody can be happier than me."
It's interesting to Joe to hear the passion in the voices of so many NFL types when they talk about Leftwich as a head-coaching candidate. Iconic offensive guru Tom Moore, who doesn't throw around BS, was so emphatic.
Boone went on to talk about what a juggernaut the Bucs are building, especially on offensive with the Giovani Bernard signing.
And Boone marvels at the Bucs' ability to recruit free agents. There's little more powerful, he claims than Jason Licht calling a free agent and saying, "Tom's been asking about you.'
---
DRAFT PARTY!
Your video invitation to Big Storm Clearwater, Thursday night, April 29!