Great Minds Think Alike
April 12th, 2021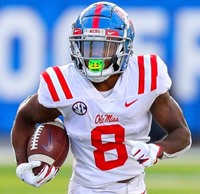 There are a couple of things Joe knows about NFL draft analyst Daniel Jeremiah.
First is Jeremiah was a successful scout for the Browns and Crows.
From the ex-NFL suits who pontificate on Twitter, Jeremiah is one of the very few NFL draft experts these guys respect for knowledge of the game and how the draft actually works from an NFL suit perspective.
Joe also knows Jeremiah generally is not going to throw out crap. While Jeremiah has publicly stated he hates mock drafts, that doesn't mean he is going to lie. So if Jeremiah thinks a guy could be first-round worthy, he's using his NFL evaluation eye test.
Those who listen to the Ira Kaufman Podcast heard JoeBucsFan.com draft analyst and Bill Currie Ford general manager Sean Sullivan hype up a receiver from Mississippi as a possible Bucs target last week. That would be Elijah Moore.
As if Jeremiah himself was listening to Sullivan, Jeremiah in his lastest (yawn) mock draft has the Bucs selecting Moore.
This is a luxury pick for the Bucs as they try to run it back with some insurance in case they do not re-sign Antonio Brown. Moore is a dynamic playmaker with a different skill set than Mike Evans and Chris Godwin.
Well, luxury pick unless you factor in furniture-tossing, bicycle-throwing Antonio Brown is still walking the streets and the very real possibility that Chris Godwin won't be on the roster in 2022.
This Moore, 5-9, 178, is super quick. He ran a 4.38 40-yard dash. Dane Brugler of The Athletic in his "Beast" draft preview believes Moore is the sixth-best receiver in the draft and projects him to be a second-round pick at No. 35 overall.
So Jeremiah isn't reaching much to suggest Moore could go at No. 32 to the Bucs.
Here's Brugler's breakdown:
STRENGTHS: Balanced athlete with the ability to gear up/down and accelerate out of his cuts…runs routes with tempo and controlled urgency…quick-thinking, decisive ball carrier to set up moves and force missed tackles…able to win vertically with sluggos or double-moves…quick to reach his route depth, calm his feet and give his quarterback a clean target…strong hands with excellent focus at the catch point (credited with only one drop on 101 targets in 2020)…looks comfortable going across the middle of the field…short, but not small with firm muscle definition…not shy lowering his pads to barrel through tackle attempts…emerged as the featured playmaker in the Ole Miss offense, breaking AJ Brown's school record for receptions in a season (86).

SUMMARY: A three-year starter at Ole Miss, Moore was a high-volume slot/backfield target in head coach Lane Kiffin's up-tempo spread scheme. He thrived with quick, underneath throws (jet sweeps, screens, slants, etc.) and took advantage of being force-fed the football, leading the SEC in catches (10.8) and receiving yards (149.1) per game in 2020. Moore plays fast, decisive and dependable and can be used as a matchup receiver in space, tracking the ball and making defenders miss. He was more of a specialty receiver in college and has plenty to prove as a downfield target. Overall, Moore doesn't have the tape of a well-rounded receiver, but he is an athletic and controlled route runner with strong hands. He projects as a flexible chess piece who can be as productive as his volume.
Joe sees wide receiver almost like Joe sees drafting a running back at No. 32. The future is now so "development" shouldn't even cross anyone's mind with the Bucs this spring. Draft guys you think can make an impact now, not in 2024.
Running backs and receivers are the two positions on offense that seem to have the lowest learning curve. And like running back, it's no sure thing at all Playoff Lenny or Ronald Jones will return in 2022, as both are in the final year of their contracts.
Joe also likes the fact that Moore comes from a pro-style offense like Lane Kiffin's at Ole Miss.