Byron Leftwich Doesn't Want Head Coach Questions
April 19th, 2021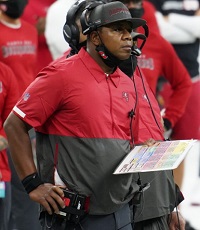 Byron Leftwich seems to know he is a young offensive coordinator with one of the sweetest gigs in the NFL.
Yeah, 41-year-old Leftwich wants to be a head coach, but last night Leftwich delivered a message that he will not in the business of trumpeting a desire to leave Tampa.
"I'm telling you guys now, I'm not going to be answering that question all year, right? I am happy to be here with my group of guys that I work with," Leftwich told assembled media last night at a Bruce Arians Foundation dinner.

"I am not trying to leave this group who I have. I enjoy working with this group of men. It's an excellent group of men to come to work [with] every day. The way they come to work, as a coach, you beg and wish that you can coach guys like this. So I'm in no rush to leave this group of men."
It's been rather obvious to Joe that Leftwich is disinterested in selling himself through the media as a head coach candidate. And now Leftwich has made that official.
Leftwich didn't even make the rounds to various national media outlets following the Bucs' Super Bowl win, whereas his defensive counterpart, Todd Bowles, did just that.