Bruce Arians Wanted Bucs In All Pewter For Super Bowl
April 16th, 2021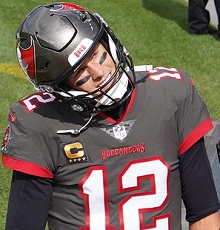 Imagine all those glorious Super Bowl pictures, memories and highlights looking a lot different.
The Bucs pounded the snot out of the Chiefs wearing their glorious white jerseys and pewter and red pants. But Bucco Bruce Arians told the Bucs Total Access that he wanted the team in its new-in-2020, all-pewter look for the Super Bowl.
"The league said we could not do it because it was an alternate uniform. So if we can't wear those, we're wearing the ones we won all our other games in," Arians said.
Joe realizes Arians is a bit of a fashion icon, but Joe's not a big fan of the all-pewter look, though it is a much smarter choice than those made by the likely inebriated prankster who selected the Bucs uniforms worn from 2014-2019.
Joe suspects the Bucs will open their season at home on Thursday night, Sept. 9, wearing the white and pewter seen in the Super Bowl. That's the new standard of excellence and beauty.
---
DRAFT PARTY!
Your video invitation to Big Storm Clearwater, Thursday night, April 29! Giveaways, special guests, and more. Ira Kaufman and Joe will be in the house starting at 7 p.m.