Antonio Brown Trouble Still Pending With NFL
April 22nd, 2021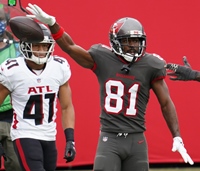 It seems it might take more than a fat check stroked to his rape accuser in order to clear the record of furniture-tossing, bicycle-hurling Antonio Brown.
NFL Network shared this week that Brown's civil rape lawsuit is ending as most do — with an agreement between the two parties before landing in court.
But NBC Sports and ProFootballTalk.com guru/insider Mike Florio appears to have asked the the NFL the money question. Has the NFL cleared Brown of all wrong-doing under the league conduct policy?
Florio got a "nope" response.
The resolution of a civil sexual assault and rape lawsuit against free-agent receiver Antonio Brown doesn't automatically resolve his lingering issues with the NFL. Asked what a Brown settlement of the lawsuit brought in September 2019 by Britney Taylor means for the still-pending Personal Conduct Policy investigation, a league spokesperson told PFT, "The matter remains under review."
Bucs fans know very well about how the NFL has its own justice system. So Joe is not surprised that the NFL is giving Brown's mess a lot of scrutiny, like it's, say, a famous drive-thru groping.
Regardless, Joe is not concerned. The Bucs are sure to get a definitive answer from the NFL on Brown before opening day. Plenty of time to sign Brown if they haven't by then.
Remember, Brown didn't join the team until October last season, and it all worked out fine.