Antonio Brown Starting To Dial Up The Heat
April 6th, 2021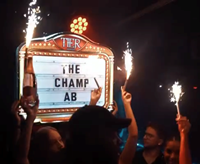 Is furniture-tossing, bicycle-throwing free agent receiver Antonio Brown starting to get antsy with the Bucs? He sure seems like he's starting to go public with his desire to return.
Brown, who this week put up a video on his Instagram stories account the goings-on in a packed Orlando nightclub replete with scantily-clad women grinding in what looks like a house party in his honor, has taken to the Bucs' Instagram account with a simple two-word request.
The Bucs posted a graphic that displayed the numbers of the Bucs free agents who have returned to the team. There is a clear absence of one number: 81. That would be Brown.
So in a reply to the Bucs' posting of the graphic, Brown (his Instagram handle is "@ab") typed, "Sign @ab."
In a funny reply to Brown, Bucs linebacker Devin White wrote, "waiting on you."
So Brown wants to play for the Bucs,; this much is clear. And his teammates want him back. That much is clear.
So what's the hangup? Joe thinks we all know the answer.