A Look At The Bucs' Inexperienced 2021 QB Opponents
April 6th, 2021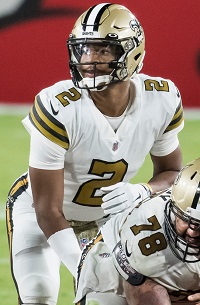 A quick look at the quarterbacks Tampa Bay likely will face during the 2021 season reveals significant inexperience and playoff struggles.
Joe can only imagine the grin on Tom Brady's face upon seeing this group:
Dak Prescott (1-2 record as a playoff starter)
Ryan Fitzpatrick
Jalen Hurts
Daniel Jones
Andy Dalton (0-4 in playoffs)
Carson Wentz (4 career passes in playoffs)
Matthew Stafford (0-3 in playoffs)
Josh Allen (2-2 playoff record)
Tua Tagovailoa
Rookie QB (Jets)
Cam Newton (2015 season was last playoff win)
Sam Darnold (Panthers twice)
Jameis Winston/Taysom Hill (Saints twice)
Matt Ryan (Falcons twice, 2016 season was last playoff win)
Not exactly beast of a list there, especially if you consider Ryan and Newton past their primes. No Super Bowl winners among them, and the only guy with recent success as a playoff starter is Josh Allen.
If the Bucs, hypothetically, lost only to all the QBs with a playoff win, they'd still go 12-5.