A Short Reach At Corner?
April 17th, 2021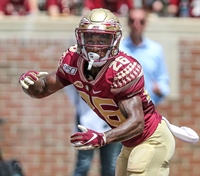 Joe remembers when former Bucs corner Vernon Hargreaves played, fans hollered not so much because he was toasty, but that he was short.
Hargreaves is 5-10. So Joe doesn't know how well it would go over with Bucs fandom if Tampa Bay drafted another 5-10 corner in the first round. But some believe Asante Samuel is a smart Bucs choice at No. 32.
The Florida State corner is considered by several draftniks as a baller. And one NFL stenographer, Josh Edwards of CBS Sports, thinks he's coming to Tampa Bay.
Tampa Bay has essentially zero holes on the roster so it is in a position to add quality depth. Picks made this year are to set the Bucs up for success long into the future.
Joe doesn't mind depth at corner. Hell, it's imperative. Thing is, unless you believe the Bucs are wanting to wave goodbye to Carlton Davis, why spend a first-round pick on a corner. You use a first-round pick on a guy you expect to start, if not as a rookie, surely in his second-year.
If the Bucs plan on keeping Davis — all indications say they are — then you are picking a guy in Samuels to ride the pine for two or more years unless you don't believe Sean Murphy-Bunting is capable. And remember, he helped shut down Drew Brees, Aaron Rodgers and Pat Mahomes in succession in the playoffs.
So how bad could Davis and SMB be? In Joe's eyes, not bad at all.
Let's read what the experts think about this Samuel. Dane Brugler of The Athletic, in his "Beast" of a draft guide, believes Samuel is a second-round pick.
STRENGTHS: Above average athleticism with the movement skills to turn and immediately reach top speed…velvet feet to stay connected to different types of route runners from press-man…clean pedal and stays on the same plane vertically…outstanding drive mechanics, anticipating and trusting his reads to get a head start…averaged 24.7 yards per interception return in 2020 (3/74/0)…small-framed player, but plays fearless and won't back down on jump balls…plays tough in run support and a better tackler than expected…named a team captain as a junior and the FSU coaches praise his competitive temperament (head coach Mike Norvell: "He's a joy to coach…he pushes to be the best he can be")…impressive NFL bloodlines, which is also a motivational tool because he is driven to escape his father's shadow…experienced outside and in the nickel…impressive ball production with more passes defended (33) than games played (32) in college.

SUMMARY: A three-year starter at Florida State, Samuel lined up at right cornerback in defensive coordinator Adam Fuller's scheme, playing mostly man (press and off) with some zone coverage mixed in. After a rough start when he arrived in Tallahassee (six touchdowns allowed in 2018), he settled in the last two years with 24 passes defended and only two touchdowns allowed over his last 20 games. Samuel plays with outstanding reaction quickness and ball awareness to turn and locate or drive on throws in front of him. His lack of size shows up in coverage and against the run, but he is a heady player who trusts his skills, very similar to his Pro Bowl father. Overall, Samuel's smallish frame isn't ideal, but he is twitched up with the fluid athleticism and play confidence to stay connected to routes (flashes Jaire Alexander-type ability). He projects as an NFL starter capable of playing inside or outside.
Joe's good friend Emory Hunt, the Czar of the Playbook, is much higher on Samuel and has Samuel as his No. 2 corner.
Strengths:

– Fantastic footwork and flawless technique. He's very consistent in this regard. It's clinic tape on how smooth he is in/out of his transition. Sees the field well in zone.

– Attacks the ball, and ball carrier/receiver extremely well. Terrific ball skills. Can definitely turn the ball over.

– He has above average press skills. It's hips-hands-feet in terms of how he's able to press. So much so that you can trust him on the boundary.

Areas of Improvement:

– Very inconsistent "pop" coming out his backpedal. This tends to happen when he is playing off coverage. His lack of being able to explode out of the break, allow for the receiver to create enough separation.
Joe doesn't believe lack of height is a dealbreaker, but ball skills, speed and hops better be able to compensate for a lack of inches. Samuel's wingspan also helps.
So if Hargreaves wasn't tall enough for many Bucs fans, Joe isn't sure how those same fans will be able to swallow drafting another 5-10 corner with a first-round pick, not to mention a guy who may not start for a while. Joe's OK with drafting a nickel corner high, just not in the first round, not even at No. 32.