The Free Agency Dinner Bell Rings At Noon
March 15th, 2021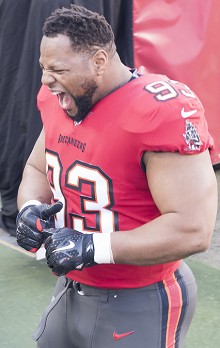 Happy New Year!
Sort of.
Today is the annual happening usually looked to by Bucs fans as the day the franchise will be saved by high-priced, well-placed free agents from other teams.
You remember the names and years. In 2012, it was Vincent Jackson, Carl Nicks and Eric Wright. Two years later came Clinton McDonald, Michael Johnson, Anthony Collins, Josh McCown, Alterraun Verner and Brandon Myers.
The 2015 fun brought a flurry of washed out ex-Bears. And in 2017, it was DeSean Jackson, Nick Folk, Ryan Fitzpatrick and Chris "Swaggy" Baker to the rescue.
Joe could dive deeper into the free agency history but will spare innocent Bucs fans still celebrating the greatest run in franchise history.
This year, the Bucs do not need a savior in free agency. And it feels so good. Theirs finally arrived last year from New England.
Now the Bucs just need to save their own, with sacks king Shaq Barrett as Priority 1, and Ryan Succop and Ndamukong Suh two notches down the ladder.
At noon today, the NFL tampering period opens, a 48-hour window in which player agents can negotiate new contracts with team front offices of their choosing (but not coaches). It's mostly a sham. The parameters of deals have been discussed, and by 3 p.m. a flurry of deals will be announced, ones that will be made official when the new NFL league year begins at 4 p.m. on Wednesday.
Wednesday also is when teams can resume trading players, and the deadline for teams to submit tenders on restricted free agents. (Will the Bucs slap one on Super Bowl right guard Aaron Stinnie?).
Of course, the giant key here is to get Shaq to ink a deal before noon. Make it happen, Team Glazer!
Yes, you Team Glazer. If Shaq is on the fence, then commit a million to Shaq's foundation if you have to. Build the guy a statue. Give his family members jobs. Donate to his church. Get him an endorsement deal with one of your sponsors. No excuses.