Drew Brees Retires
March 14th, 2021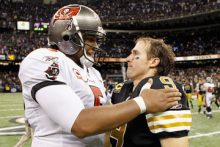 Time to do some NFC South quarterback math.
Drew Brees made it official today; he has quit the NFL. After 20 years and the Bucs driving a stake into his heart in the NFC Divisional round, Brees ended his career and the Saints' QB torch has been passed to Taysom Hill and, perhaps, America's Quarterback, Jameis Winston.
Matt Ryan turns 36 in May behind a bad offensive line. (Ryan led the NFL in completions last season. No, Joe doesn't think Ryan is washed out yet.)
The Panthers feature below average Teddy Bridgewater.
Our beloved Bucs? They have the greatest quarterback in the history of the world, a man coming off his seventh Super Bowl win and a 40-touchdown regular season.
Hmmm, who do you like to win the division title next season?
While it was likely Brees was going to retire, Joe learned long ago not to believe a retirement until it's official. So Joe is very pleased this evening because the Saints just got worse, on the heels of gutting established stud players last week, including Emmanuel Sanders and Janoris Jenkins.
Sadly, this may be the last time Joe may publish the historic Josh Freeman photo above, pne of Joe's all-time favorite shots.