Bucs Part Of The Dirty (And Happy) Dozen
March 1st, 2021
BY IRA KAUFMAN
Ah, sweet stability.
While an unprecedented number of NFL teams search frantically for a quarterback to build around, the Buc brain trust sits blissfully in the executive suite, knowing Tom Brady is returning for another championship quest.
To say that's reassuring is a bit of an understatement. That's like saying someone's going to pay Shaq Barrett top dollar in 2021.
Yes, the quarterback carousel appears to be rotating out of control at the moment. It's all a blur. You can see the images of Ben Roethlisberger, Deshaun Watson and Russell Wilson, but don't blink because the wheel is in spin.
It's quite a relief for Buc fans that they have certainty at the game's most demanding position. Brady may not be ready to resume workouts until mid-summer, but he'll soon be hitting the playbook and the film room in an effort to improve.
That's just the way he's wired. Don't try to figure the man out, just marvel at Brady's pursuit of perfection.
While Bruce Arians and Jason Licht sleep soundly during the offseason, the vast majority of NFL clubs aren't confident they have the right guy under center.
We've already seen the Rams ditch Jared Goff in favor of Matt Stafford — and many more shake ups are on the horizon. By my count, only 12 teams are really excited about their quarterback situation.
Who are the Dirty Dozen?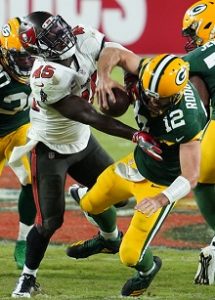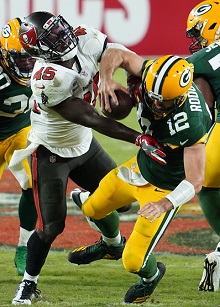 Start with the Bucs and Brady. Then move on to Kansas City (Patrick Mahomes), Baltimore (Lamar Jackson), Buffalo (Josh Allen), Cleveland (Baker Mayfield), Cincinnati (Joe Burrow), Tennessee (Ryan Tannehill), the Chargers (Justin Herbert), Arizona (Kyler Murray), Green Bay (Aaron Rodgers), the Rams (Stafford) and the Cowboys (Dak Prescott).
Notably, Burrow (knee) and Prescott (ankle) are rehabbing from serious injuries.
This could be a record offseason in terms of quarterback makeovers. In 1999, 16 of the league's 30 teams opened the season with a different starter under center. That 53 percent overhaul rate might be surpassed this year.
Watson and Wilson are looking for a change in scenery while Pittsburgh is contemplating life without Roethlisberger. Those are two Hall of Famers and another (Watson) who may be on his way to Canton.
There are a ridiculous number of starting quarterbacks who are simply holding the fort until a better replacement comes along.
The Falcons are stuck with Matt Ryan. The Bears can't be thrilled with either Mitch Trubisky or Nick Foles. Carolina isn't sold on Teddy Bridgewater. The Broncos would like to upgrade from Drew Lock. Don't be shocked if there's some shopping around in Motown if Goff struggles.
Derek Carr is one bad game away from entering Jon Gruden's doghouse for good. The Dolphins aren't convinced Tua Tagovailoa is the answer. A bulky contract is all that's keeping Kirk Cousins in Minnesota.
The Giants are giving Daniel Jones one last look. Jalen Hurts will need a big year to silence the Philly skeptics. Is John Lynch truly all in on Jimmy Garoppolo?
The Bucs have no such qualms about their quarterback. Brady exceeded all expectations last season, raising the Vince Lombardi Trophy aloft after throwing 22 TD passes and only four picks during the closing 8-game winning streak.
A year ago, the Bucs were one of those franchises scrambling for stability under center. Jameis Winston had one cleat out the door and Brady had yet to emerge from Door No. 2.
As long as Brady remains healthy and wants to play, Tampa Bay is set at quarterback. Arians and Licht can sit back and watch 20 other teams scramble for stability.
It's a circus out there, but the Bucs are merely happy observers, thankful to be outside the tent.