"The Bucs Are Not Done Making Their Push For Lavonte David"
March 4th, 2021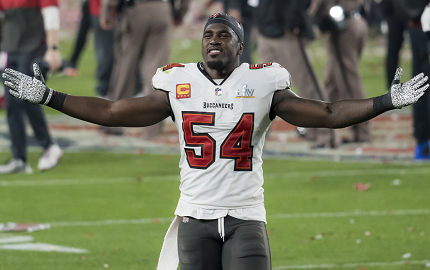 Now this is a fantastic video example of a media guy getting a nasty text from a seven-figure power broker in Tampa.
NFL Network reporter Mike Garafolo recently reported on air his confidence that Bucs Super Bowl-winning linebacker Lavonte David will leave the team in free agency. Joe shared the report early this morning, but it appears it was worth as much as a Doug Martin run in 2017.
Garafolo went on the air today to explain how and why he screwed up. It was a poor but oddly heartfelt explanation.
The video is below and Joe got a good laugh — even watched it twice with an ice cold Wavemaker Amber Ale from Big Storm Brewery.
Today, Garafolo is convinced "the Bucs are not done making their push for Lavonte David," who is a pending free agent.
Enjoy the video below. The free agency feeding frenzy begins Monday, March 15.
From NFL Now on @nflnetwork: Doubling back on #Buccaneers LB Lavonte David's chances of sticking around in Tampa, which are better than I indicated a day ago. My bad on that. Explanation 👇🏼 pic.twitter.com/db6DnFL5SM

— Mike Garafolo (@MikeGarafolo) March 4, 2021