Report: No Schedule Release Until Mid-May
March 4th, 2021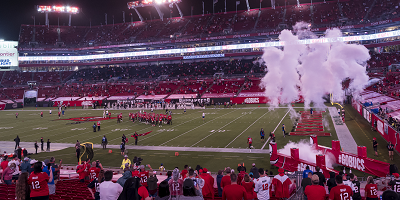 Serious NFL fans know the annual schedule-release day is a true national holiday.
And it's of particular interest this year from Tarpon Springs to Temple Terrace and beyond.
Why? Because the Bucs are Super Bowl champions, baby, and every fan wants to know who Tampa Bay will host at The Licht House on opening night of the 2021 season.
Also, Bucs tickets will be in demand like it's 2003, and fans are hungry to make plans for games and parties and traveling to road games.
Unfortunately, the traditional pre-NFL-draft release of the schedule is expected to be a mid-May affair, per Sports Business Journal (via ProFootballTalk.com). Apparently, the NFL and TV networks — they craft the schedule together — need more time to consider which stadiums will have fans and which ones will not.
Also, the NFL is waiting on approval of a 17-game season, which will make life tougher for the schedule makers. (Allegedly, the Bucs will be on the road at Indianapolis for their additional game).
Joe's just sad about waiting for the announcement. Nothing makes the next Bucs season feel more real — and close — than the first look at the new schedule.