Ray Lewis: Bucs Don't Need To Blitz
March 29th, 2021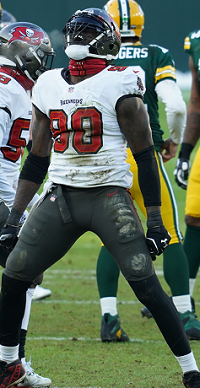 Legendary linebacker Ray Lewis was all fired up talking Bucs on ESPN TV, and he named five Tampa Bay guys that have him especially pumped.
The general is Todd Bowles, as Lewis calls the Bucs defensive coordinator, and the Hall of Fame linebacker is convinced Bowles knows exactly how dominant his unit is. And that's why the Bucs were so aggressive in returning their free agents.
"They know what they have, Lewis bellowed on First Take. "Right, they they have a chance to go back and do it again and again until people stop them because of what Todd Bowles has done with that defense. When you got [Lavonte David] and you got them boys running around behind [Ndamukong] Suh and them and [Shaq] Barrett and JPP on the outside, let me tell you something, when you have a front seven that dominant, listen to me, you don't have to blitz nobody! All you have to do is make sure the ball does not get over your head, and let that front four hunt the way that they hunted in the Super Bowl." 
Lewis equated what the Bucs did against the Chiefs to what his Ravens did 20 years ago to the Giants — in a Super Bowl also at The Stadium on Dale Mabry Highway (now The Licht House). The Ravens' defense kept the Giants out of the end zone, exactly like the Bucs did to the Chiefs in last month's 31-9 championship beatdown.
Ironically, the Bucs led the NFC in blitzing, coming in 268 times during the 2020 regular season, per Pro Football Reference.
Astute fans realize Bowles' frequent diet of blitzes is a nightmare for quarterbacks, so Lewis is off the mark. But he is correct in putting it out there that the Bucs' four-man pass rush was elite in the playoffs and the Bucs can beat anyone and everyone if that continues.
It's a reason Joe hopes the Bucs still add a pass rusher in free agency and/or try to strike gold on the edge in the draft. You just can't have too many QB hunters after New Year's Eve.