Giving Up On The Next Tom Brady
March 29th, 2021
BY IRA KAUFMAN
@IKaufman76 (also a regular at Big Storm Brewery taprooms)
The evolution of pro football has me thinking about pocket change.
Although Tom Brady, who turns 44 in August, is still going strong, he represents one of the last vestiges of a breed that once dominated under center. Along with Matt Ryan and Ben Roethlisberger, Brady is a reminder that pocket passers once ruled the NFL earth.
Today, they're gridiron dinosaurs.
Drew Brees and Philip Rivers are gone and a new influx of mobile quarterbacks are literally running roughshod all over this league.
In the new world order, if you can't move, you can't groove.
Patrick Mahomes, Lamar Jackson, Josh Allen. Kyler Murray and Dak Prescott excel at extending plays and driving defensive coordinators crazy.
Deshaun Watson's career may be in limbo, but he's always on the move on fall Sundays. Justin Herbert and Daniel Jones, both 23, rely on their legs to avoid trouble while Aaron Rodgers and Russell Wilson have been frustrating pass rushers for years.
"I asked a friend of mine this morning: 'Have we seen with Brady and (Peyton and Eli) Manning, the last of this style of players coming into the league?' " says Hall of Fame executive Bill Polian. "The answer is maybe. Now, all of those guys are different in different ways. They're not all the same. But they are, quote, 'athletic.' They can move. They play quarterback in different ways. But that aside, I think there's no question that the wave of the future is the athletic quarterback."
The numbers tell the story.
During his 21-year career, Brady averages less than 4 rushing yards per game. Brees averaged less than 3. Ryan runs for 7 yards per game, a little more than Roethlisberger. In only three seasons, Allen has already rushed for 519 more career yards than Brady.
Here's another yardstick: In the past eight years, Brady has rushed for 73 first downs. In the past two years, Kyler Murray has moved the chains 79.times.
This trend isn't going away, either. When evaluating college prospects, pro scouts can't decide whether to focus on arms or feet. Alabama's Mac Jones is highly accurate and makes good decisions, but his lack of mobility is a serious concern at the next level.
Next Up
Look at the top-rated quarterback prospects for the 2021 draft.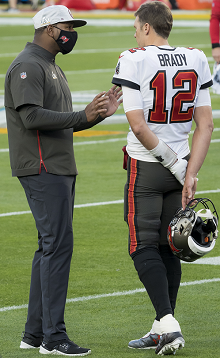 In his three years at Clemson, Trevor Lawrence ran for 943 yards and 18 touchdowns. Zach Wilson rushed for 642 yards and 15 TDs in 30 college games while Justin Fields ran for 1,133 yards and 19 scores in 34 games.
How about Trey Lance? Try 1,182 yards and 16 TDs on the ground in 18 games at North Dakota State.
"Today's pocket quarterback is yesterday's scrambling quarterback," says NBC Sports analyst Chris Simms. "I think that's where the NFL is going. There's going to be a level of expectation of the ability to get out of the pocket, extend plays, even for the pocket quarterback in this day and age. The guys like Tom Brady, that's a dying breed. That's the old NFL. You better have some athleticism."
Even at his age, Brady might outlast Roethlisberger and Ryan as an active player. He could end up being the last of the big-time pocket passers.
"The D-lines in this league are just ridiculous," says Cardinals Coach Kliff Kingsbury. "You can't expect to block them and hold up consistently. So if you're not a Drew Brees or a Tom Brady, getting the ball out on time to the right place 100 percent of the time, you better have some athleticism to be able to extend plays."
It's comforting to know Brady can be so successful doing it his way.
He takes fewer hits than today's quarterbacks, who are constantly on the move. This new breed could turn out to be a mere passing fancy.
They'll do — until the next Tom Brady comes along.