"One Of The Best Rookies I've Ever Been Around"
March 13th, 2021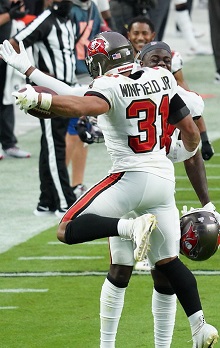 It's special when an eight-year NFL veteran speaks out about a rookie without being asked.
That was the case this week with Bucs newly-re-signed linebacker Kevin Minter throwing some love at 22-year-old Bucs Super Bowl hero safety Antoine Winfield, Jr.
Somewhat lost in the Bucs' dream season was Winfield answering the bell for 20 games and making a major impact. He wasn't in the Pro Bowl conversation, but no moment was too big for him and Joe suspects Winfield is the kind of player who will make a huge leap in Year 2 of his career.
Minter certainly thinks so. Winfield came up during Minter's chat this week on KGME-AM in Phoenix.
No Super Bowl discussion is complete without a mention of Winfield's famous peace sign in the face of Tyreek "Cheetah" Hill.
"If you know [Winfield], he's not that type of guy," Minter said of Winfield flashing the deuces.

"First of all, he's one of the best rookies I've ever been around. I mean, he just wanted to get better. He was already smart; you know he's a football kid because of his dad [being an NFL player]. He came here and worked every day and just was constantly asking questions, stayed up under the vets. There's a reason why coach made sure he started the first game, you know what I mean, and all the way through."
And to think Winfield was the Bucs' second-best rookie. Wow!
Just imagine if the Bucs nail the draft again this year with two more plug-and-play studs.