Lavonte David Says Free Agency Is "Difficult" And "Different"
March 6th, 2021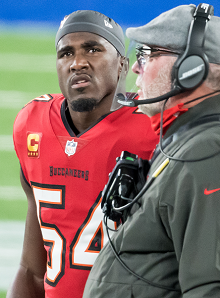 New territory doesn't feel great for Lavonte David, who could have a brand new team in nine short days. NINE!
That's when a flurry of deals will be reported after the NFL free agency negotiation period opens Monday, March 15.
David hopped on SiriusXM NFL Radio yesterday with former Bucs rock star general manager Mark Dominik and Lance Meadow. There the stud Bucs Super Bowl linebacker said he has a lot of wonderful distractions from free agency but didn't sound like a guy enjoying the process.
"It's difficult. It's different," David said of the new experience of being a free agent. "Honestly I've never been a part of anything like it.

"I don't know what to expect. I just go with the flow. So luckily for me, you know, I've got some good stuff that kind of keeps my mind off of that. Honestly, just being a Super Bowl champion and being back home in Miami with my family and just enjoying them because it was really hard for me to see them throughout the season. …

"I just sit back and just let my agent handle all that stuff. And whenever he comes back with news, he gets back to me whenever. All in all, I've just been sitting back, man, enjoying this. It took me nine years to finally get to the playoffs and then actually win it all. So it's definitely something I'm thankful for and it's something I'm kind of just soaking all in."
That kind of just says it all. David has no team yet and sounded through the interview like a guy who expects to test the free agency market.
A couple of other nuggets from David.
*He believes every Bucs free agent wants to return next season, and he thinks COVID was sort of blessing for team bonding and unity.
*Per David, Bucs officials said there would be "a ring committee" regarding design of the Bucs' Super Bowl ring. But David said he thinks the player-input side of things fell apart, though he's confident Team Glazer will come up with something very special.
*David said reflecting on his nine-year Bucs career/struggle and the Super Bowl win, he thinks a lot about how very special it was to win it at home.