"I Got The Easiest Coaching Assignment In The Game"
March 1st, 2021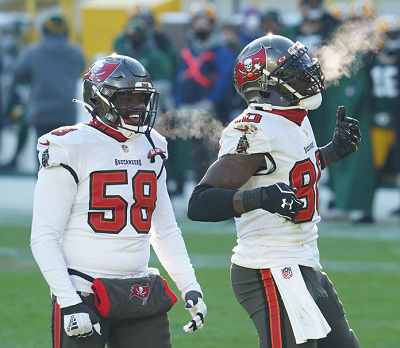 One of the most fun stories to emerge from the Bucs' Super Bowl win revolves around Jason Pierre-Paul spiking a Gatorade bottle and running into the game when he wasn't told to.
With a little over 5 minutes remaining in the fourth quarter, Bucs reserve outside linebacker Cam Gil checked in on a 2nd-and-20 play and exploded into the face of Patrick Mahomes, forcing a fumble and also recording Gill a half-sack.
Speaking on the All Things Covered podcast, Bucs outside linebacker coach Larry Foote explained that Gill, who played just three snaps on defense in the game, was mad that he was removed immediately after a big play — during a blowout win.
Foote said he barked back at Gill, "I didn't do it!"
Per Foote, JPP saw his replacement make a big play, slammed his drink to the turf and substituted in for Gill — without permission. Foote laughed and explained that JPP is just that kind of veteran player.
Humble Foote was asked about his role and channeled a line Warren Sapp used to use when asked about pass rushing philosophy.
"I got the easiest coaching assignment in the game. Get out of their way. Get outta the way," Foote said. "You know pass rushers; I just always hone them in. Play the run. Play the run. As for the particular game, you know, the old school Bill Cowher, 'Hey, rush the passer. Stop the run on the way.'

… Them guys love that. They love the challenge."
Fun stuff.
Joe hopes the picture above is a sight Bucs fans will get to see again. #KeepShaq