Donovan Smith Acknowledges Couch Coaches, LeBron Critics
March 29th, 2021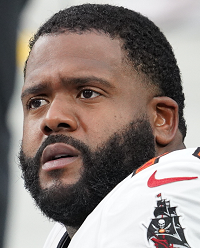 Through six NFL seasons, Donovan Smith has absorbed a dizzying flurry of darts from critics worldwide.
Heck, it started before he got to Tampa, when an ex-NFL player and a noted Penn State game analyst said Smith "played lazily" and was overweight in college.
The Pro Football Focus tribe also got all over him, and then a popular sports radio chorus in Tampa was to move Smith to guard because, you know, he can't succeed at left tackle.
Now, Smith is a Super Bowl left tackle enjoying a fat contract extension. He's surpassed Donald Penn in Bucs lore and is marching toward rivaling the career of the Buccaneers' only Ring of Honor left tackle, Paul Gruber.
Aaron Jacobson of WDAE Radio recently asked Smith on-air about his detractors, whether he's heard the noise and if it's hard to block out.
Joe loved Smith's answer — because Smith admitted to being that kind of fan himself.
"You hear it and see it," Smith said of his critics. "But I mean, if they ain't talking about you (pause) just imagine what falls upon Lebron's ear? You know?

"Everybody's going to talk about something. You've got couch coaches. You've got everybody thinking that they know everything. So they put it out there and then, you know, people tap in and agree or disagree. And that's their opinion. So be it. It don't make or break me."
Smith went on to say he's a big sports fan and while watching the NBA, "I'm talking trash like I'm supposed to know."
He added of being an opinionated couch coach, "It's what you do."
Bravo to Smith.
NFL players, coaches and front office types are so darn hypersensitive sometimes. It's as if they've completely forgotten that they volunteered to step into the media-driven sports world and have their every move scrutinized. Some have lost reality of what it is to be an average-Joe fan, in love with the game as well as the rush of picking heroes and villains, and being right and wrong every month.
Smith, admirably, is not one of those people.