Bruce Arians Says Byron Leftwich Should Have Been Assistant Coach Of The Year
March 31st, 2021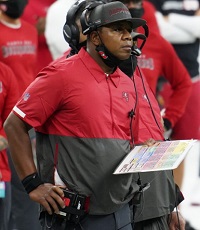 It's become obvious to Joe who Bucco Bruce Arians would choose to succeed the throne as Tampa Bay head coach when he retires.
More evidence flowed yesterday, when Arians visited with The Collinsworth Podcast.
Arians was talking about how he sold Tom Brady on learning the Tampa Bay offense versus the Bucs adjusting to him a year ago. And of course, that put a lot of stress on his offensive coordinator to get Brady playing great in his new world.
"I'm going to stop right here and say Byron Leftwich, he should have been Assistant Coach of the Year, because what he did with Tom was just amazing with no preseason," Arians said. "I stepped back and let it just happen. Great job."
Host Cris Collinsworth told Arians that he didn't believe he just watched it all evolve, and Arians cut off Collinsworth and blurted out, "Oh, I did."
Combine that with Arians saying yesterday in a news conference that it was a "farce" that Leftwich didn't get head coaching interviews in January; and throw in what Arians confidant Tom Moore told SiriusXM NFL Radio about Leftwich, and it sure seems like 41-year-old Leftwich is the shiniest apple in the coaching tree.