Brady Envy Spreading Rapidly
March 18th, 2021
BY IRA KAUFMAN
It's been exactly a year since Tom Brady sauntered down from behind Door No. 2 to One Buc Place and changed everything.
You cannot overstate the impact Brady has exerted on a team that had, up to that point, historically ranked as the least successful franchise in the league.
He raised expectations, lowered doubts and elevated the play of everyone around him.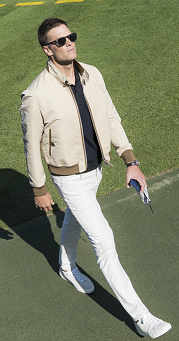 Brady proved to be the ultimate individual difference maker in the ultimate team game — and he's still working his magic. He just pulled Shaq Barrett out of his Buc cap. He just reached under a handkerchief and poof, Lavonte David materialized.
His hold on this organization is undeniable — and Buc Nation couldn't be more appreciative.
Without Brady's voice in the mix, there's no way Tampa Bay forks over $8 million plus incentives to retain Rob Gronkowski, who turns 32 in May.
For his part, Gronkowski would have probably retired if Brady had called it quits after a seventh Super Bowl victory. Instead, Gronkowski will now make $2 million more next season than Raiders tight end Darren Waller, who has latched onto 197 passes in the past two years.
Nice work if you can get it.
Brady's presence looms incredibly large over this franchise, and justifiably so. When the 2003 Bucs were preparing to defend their crown, Brad Johnson was confined to the quarterback room … he wasn't allowed in the room where it happens.
Brady's everywhere, including the minds of potential free agents apparently willing to take less money to play with a legend.
"It's hard to quantify whether that's $1 million less a year or $500,000 less a year," says Andrew Brandt, a front-office executive with the Packers from 1999-2008. "I did experience that in Green Bay with Brett Favre and that has happened in Green Bay with Aaron Rodgers."
As examples, Brandt points to All-Pros like Davante Adams and David Bakhtiari, currently playing for below-market value.
"But they're playing with Aaron Rodgers, and I think that's what is happening in Tampa," Brandt says. "I can tell you it's causing a lot of Brady envy around the league. I'm guessing Russell Wilson is one of those guys that's like, 'I want some of that.' I want some of that power, some of that ability to bring in players, some of that ability to call the shots."
Even an all-time great like Joe Montana acknowledges Brady is on a different level. Montana's play in the NFL's showcase game remains unassailable — four starts, four wins, 11 TD passes, zero interceptions. But the larger body of work favors Brady and his transformation of the 2020 Bucs adds a fresh chapter in the book you can't put down.
Accomplished quarterbacks like Wilson and Rodgers pine for the kind of influence Brady now exerts. You could tell from the comments made by Rodgers after the NFC title game loss that he isn't clear about his clout within the Green Bay organization.
Brady's remarkable 2020 season only enhanced his influence. Bruce Arians and Jason Licht would be fools to deny Brady a powerful say, and these are not foolish men. Brady is going to finish his career with Tampa Bay and by the looks of things, he's far from finished.
If Rodgers, Wilson and Deshaun Watson have come down with a severe case of Brady Envy, that's just too bad. Put seven Super Bowl rings on your fingers and then you can whine with justification.
There's only one Tom Brady — and he chose Tampa.
Get over it.