A.J. Green Deal Could Shed Light On Antonio Brown
March 17th, 2021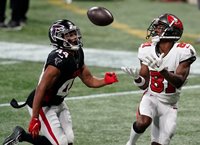 How many NFL receivers can say they opened their careers with seven consecutive Pro Bowls nods?
A.J. Green can.
After 10 years in Cincinnati, Green is officially on the move today, per Adam Schefter of BSPN. Green, 32, is now a member of the Arizona Cardinals with $6 million guaranteed and another $2.5 million in incentives.
Why does Joe care? Well, pending free agent Bucs receiver Antonio Brown also has seven Pro Bowls to his name and is 32 years old.
Joe believes what Green is now earning to be a complementary piece to DeAndre Hopkins in Arizona is a window to what Brown will want to be happy for another season with the Bucs.
Brown likely is better than Green, who declined last season but also didn't benefit get the stellar quarterback play Brown did — and Green didn't have an array of weapons around him as he came back off a 2019 injury. But Green also doesn't carry the looming-civil-rape-trial baggage held by bicycle-hurling, furniture-throwing Brown.
So what will it take to keep Brown happy and willing to behave in Tampa for another season? $6 million plus incentives?
Joe would rather spend the cash on a proven rotational pass rusher, but Joe understands that Brown at a discount price represents superior value.
What a day ahead @BigStormBrewing Clearwater!
• Grouper Fish & Chips in an Oats in Hose Batter
• Corned Beef & Cabbage
• $5 Jameson
• Red Ale, Dry Stout and Oats in Hose on tap!
• Live music starts at 5 p.m.
Gorgeous outdoor setup, indoors, too. https://t.co/vGcehHQRHu pic.twitter.com/0rZpnXKW1J

— JoeBucsFan (@JoeBucsFan) March 17, 2021