Tom Brady = More Aggressive Pass Blocking
February 13th, 2021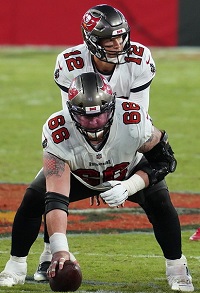 Cool football nuance expressed this week by one of the Bucs' starting offensive lineman.
Super Bowl-winning center Ryan Jensen explained to SiriusXM NFL Radio that Brady's lightning-fast release and consistently intelligent decisions give O-linemen the confidence to pass block more aggressively. They no longer "just sit back and, you know, kind of eat the rush, per se."
For an attack-dog lineman like Jensen, the Brady effect suits him perfectly.
"You know, if you get your hands on a guy and you're a little aggressive and he beats on you on the edge a little bit, that Tom's going to get the ball out relatively quick," Jensen said. "… It's a huge confidence boost."
And so it goes, Brady makes everyone better in various ways.