Todd Bowles Reflects On Super Bowl Prep Strategy
February 17th, 2021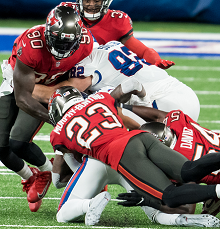 Before the delicious Super Bowl "W" was eaten across the land last week, Bucs defensive players were fed a steady diet of a well known Bill Belicheat mantra.
For Belicheat, the best known disciple of Hall of Fame coach Bill Parcells, the phrase is "do your job."
For Todd Bowles, another Parcells student, the two-week order to his Bucs defense was a little more educational.
"We told them, 'Nobody has to do anything more than what they've been doing all year. That's the biggest way you lose is for somebody to do someone else's job; that means you're not doing your own job," Bowles explained on SiriusXM NFL Radio.

"We tried to beat that across first."
Bowles went on to say the biggest preparation key for his defensive players was to not "overthink" anything. Tampa Bay's defensive mastermind expected his players to be overly emotional because of their youth and lack of Super Bowl experience, he said, but he was pleasantly surprised they "played under wraps."
To further keep players locked in, Bowles added that he maximized his large staff by giving each coach specific messages to drill in leading up to the game.
It all worked perfectly and man, what a defense the Bucs have.
There's plenty of time for draft projections, but Joe certainly would stand and salute if the Bucs selected defensive players with their first three 2021 draft picks.