Some Rookie Wall
February 10th, 2021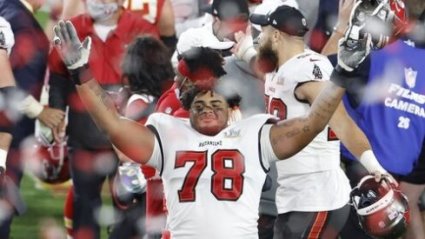 Lost in all the beer chugging and Jack Daniels shots over the Bucs winning the Super Bowl may be one of the best stories to hit the Bucs in a long while.
AC/DC-loving general manager Jason Licht has been on a roll with his drafts  Three years ago it was trading back to get Vita Vea. This guy just toys with centers who are dumb enough to try to block him one-on-one. In his first game back from injury, Vea tossed around Packers All-Pro center Corey Linsley like he was a child.
Two years ago it was Devin White who, since he returned from testing positive for The Sickness, has been playing like a possessed wildman.
Last year, however, may have been Licht's biggest grab. He only traded up one spot to get right tackle Tristan Wirfs. And with all due respect to Mike Evans, who Joe thinks the complete world of, Wirfs is looking like Licht's greatest move.
Wirfs had a season most veteran NFL offensive linemen only dream of having. In just his first year, Wirfs may be the best right tackle in the league.
If not, Wirfs is certainly in the discussion. And to think, Wirfs didn't have the benefit of any OTAs, minicamps or worthless preseason games.
(Column Intermission: The Bucs just won the Super Bowl in which every man who touched the football on a scoring play, five players (Tom Brady, Rob Gronkowski, Antonio Brown, Leonard Fournette and Ryan Succop) were not on the Bucs roster in February 2020. Three of the five weren't on the roster as dawn broke on the morning of Sept. 1, 2020. Don't ever try to con Joe with this notion preseason games are important — to hell they are! The only thing preseason games are good for is lining the pockets of orthopedic surgeons and jacking up insurance premiums.)
Wirfs has all the makings of an absolute stud who will dominate left defensive ends for at least a decade for the Bucs.
The only rookie wall involving Wirfs was the wall he put up in front of defenders trying to get past him.
This guy Wirfs is a monster.
How about this rookie campaign from Bucs OL Tristan Wirfs:

• 22 years old
• started all 20 games
• did not miss a single offensive snap (1,280 plays)
• 1 penalty since Week 5
• 799 pass-blocking snaps
• 1 sack allowed
• Super Bowl champion pic.twitter.com/J4L0PdTfou

— NFLonCBS (@NFLonCBS) February 9, 2021
orthopedic surgeons