Sean Murphy-Bunting Has Trophy Hands
February 12th, 2021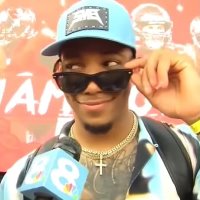 Really fun episode of "The Pat McAfee Show" yesterday heard on SiriusXM Radio and seen on YouTube, with a Bucs flavor to it.
McAfee is all fired up about the Bucs' boat parade on Wednesday, calling it "glorious." His sometimes co-host A.J. Hawk called it "luxurious."
McAfee thinks the boat parade was the coolest thing in sports in years, like how the Bucs let TV cameras onto a giant boat party to watch players get hammered and dance with babes. The former Colts punter and emergency Bucco Bruce Arians quarterback is convinced the Bucs have shamed every other professional franchise (outside of the Lightning) and made future and past regular parades for league championships look lame.
Cornerback Sean Murphy-Bunting visited the show and detailed the antics behind the scenes. SMB said fans were throwing beers at player's boats, not in an ornery way but like they were buying beers for the guys. He got blasted in the back of the head with a beer bottle.
Vessels had to stay 50 feet away from the Bucs boats so the beers came in hard and one hit SMB in the head. He said he was hurting bad but sucked it up and had fun.
SMB even got blasted in the ear with a champagne cork after Jaydon Mickens opened a bottle.
SMB said that the team was mostly divided into position groups per boats. Defensive backs did not get a chance to haul around the Vince Lombardi Trophy.
When McAfee asked why SMB and the DBs didn't get the trophy thrown to their boat, SMB said Brady is too smart for that.
"That's Tom Brady," SMB said. "That trophy is not going in the water. Unless you are throwing it to a DB. If he was tossing that to one of our DBs — not me — that trophy might have went down.

"Nah, we didn't get it. They didn't want to risk giving it to a DB. I think that was very smart. I wouldn't have dropped it, like I said. But Carlton Davis? Maybe. Jamel Dean? Maybe. But me? Not dropping it."
This shows you what a man in his 20s can do: After the Bucs celebration was over, SMB and other Bucs (he didn't mention who) went to a Tampa nightclub and SMB said he didn't get home until 4 a.m.
You can see SMB's appearance here. It begins at about the 35:00 mark.