Ryan Succop Talks North Winds & South End Zone
February 3rd, 2021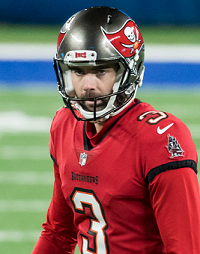 One borderline ridiculous element of The Lost Decade of Bucs football was Tampa Bay kickers struggling at home, specifically in the south end zone of the Stadium on Dale Mabry Highway.
Why ridiculous? Because dome kickers would head to Tampa and have no issues with it.
New stud Bucs kicker Ryan Succop held a news conference this week and Joe felt compelled to ask about the allegedly dreaded south end zone.
When Matt Gay and others kicked for the Bucs, they struggled there, but not Succop. Literally, Succop told Joe it might be better to ask someone else that question.
It seems south end zone woes are a myth in Succop's mind, or at least someone else's problem.
"Obviously, when I came to Tampa I heard a lot about the south end zone," Succop began. "So it seemed like the wind would be a little bit trickier down there."
Then Succop went on to say he thinks there have been more north winds during games this season than in the past. "There's probably other guys you could ask," he continued.
"The thing about our stadium is it's open-ended on both sides, so wind is a factor in our stadium."
Of course it is.
Succop missed one field goal and one extra point at home this season. He was money and the Bucs are damn lucky to have him.
South end zone, north end zone, a strong kicker like Succop won't have an issue dedicated to a side of the field.