Vincent Jackson Is Dead
February 15th, 2021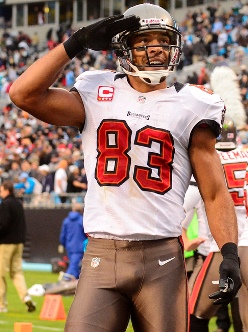 UPDATED: 6:03 p.m. – Awful news breaking this afternoon.
Tampa TV news outlets are reporting that former Bucs receiver Vincent Jackson is dead. He was 38 years old and had remained living in the Bay area following his NFL retirement after the 2016 season.
Per WFLA-TV, Jackson's body was discovered today in a Brandon hotel room. There was no visible trauma to the body, per WFLA; Jackson checked in to the hotel Jan. 11 and his family reported him missing on Feb. 10. Police found him and spoke with him, per the report, and that ended the law enforcement situation.
Jackson had many local business interests and recently was focusing mostly on real estate, so he told SiriusXM NFL Radio in January. He also was known for his relentless charity work, especially with military families. And Jackson spoke recently about coaching his young son's flag football team.
Jackson joined the Bucs as a big-money free agent in 2012. He made the Pro Bowl that season and had three consecutive seasons of 1,000-yards-or-more receiving before knee injuries derailed his career.
[6:03 p.m.] The Buccaneers released a statement concerning Jackson's passing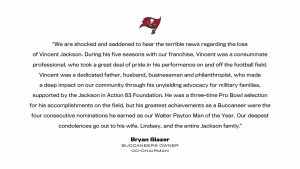 Joe will update as details emerge.