More Work, Fewer Holes
February 19th, 2021
BY IRA KAUFMAN
A year later, so much has changed for the better at One Buc Place.
At this time in 2020, just before the pandemic outbreak that altered our lives so dramatically, the Bucs were a nondescript 7-9 club preparing for free agency.
The postseason drought had reached 12 years and even the most passionate Buc fans had hit a breaking point. Meaningful December games seemed like a preposterous proposition.
The team had already decided Jameis Winston wasn't the answer under center. Those final two games did Winston in. The Bucs also knew they were moving on from veteran Demar Dotson. Tampa Bay was in desperate need of a quarterback, a right tackle and a play-making safety to line up next to thumper Jordan Whitehead.
Those were three big holes for the personnel department to fill and the Buc brain trust was also determined to keep core defenders Shaq Barrett, Jason Pierre-Paul and Ndamukong Suh from reaching the free-agent market.
Flash ahead to 2021 and the Bucs are in far better shape.
Advantage Tampa Bay
Tom Brady isn't going anywhere — except on another Super Bowl quest. There's a decent chance the Saints, Falcons and Panthers will all feature new quarterbacks this fall, so Brady represents continuity at the game's most critical position. That's an advantage as Tampa Bay tries to end a 4-year reign by New Orleans atop the NFC South.
Pierre-Paul is under contract for 2021 and Antoine Winfield just turned in a very impressive rookie season at safety. His strip of Jared Cook at the Superdome was Tampa Bay's most impactful play in the postseason and Winfield has a savvy position coach in Nick Rapone.
Dotson was the most-tenured Buc and a true professional, but his replacement turned out to be scary good. I filled in the name "Tristan Wirfs" on my All-Pro ballot and the first-round pick out of Iowa received support from nine other voters who judged him the league's premier right tackle.
Quarterback, right tackle and safety. Check, check, check.
Those were priority needs identified and promptly filled by an organization that was weary of all the losing. Heading into the 2021 offseason, there is work to do … but far fewer holes to fill.
And let's remember that Vita Vea (fractured ankle) missed 11 games last season and O.J. Howard (ruptured Achilles) was sidelined in Week 4.
The Full Brady Effect
There is ample reason to believe the Bucs will become the first team to repeat as Super Bowl champion since the 2004 Patriots. Yeah, that Brady guy was involved in that championship pursuit as well.
"I think next year is going to be a lot better than this year," Brady says. "I feel like I'll be in a much better place mentally. I'm going to train a lot better and physically, next year I'll be in a better place."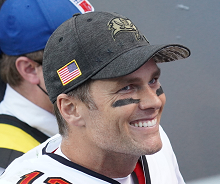 All of that optimism must be tempered somewhat by the potential departure of key free agents like Lavonte David, Chris Godwin and Barrett. Rob Gronkowski, Ryan Succop, Leonard Fournette and Antonio Brown are also not under contract, so it's obvious Jason Licht and Bruce Arians face difficult decisions.
Godwin, in particular, is an intriguing case. He missed four games last season and played hurt in some others, significantly reducing his production. Godwin went from averaging 95 receiving yards per game, second in the NFL in 2019, to 70 yards per game.
His yards after the catch dropped markedly and he wasn't a major factor in the postseason.
Still, Godwin has proven he can make the tough catches in traffic and Brady can't say enough about Godwin's sure hands. That would make it hard for the Bucs to let him walk away, but Godwin is only 24 and he understandably sees this as an opportunity to cash in as perhaps the best free-agent wideout available.
He made $2.1 million in base salary last season and Godwin's price tag could jump to $18 million per year. If the Bucs keep Brady happy by retaining Brown, to go along with Mike Evans, Scotty Miller and promising rookie Tyler Johnson, Godwin could end up the odd man out.
If that happens, the Bucs might sign a veteran receiver for far less coin. What free agent wouldn't want to come here and catch passes from Brady?
That's correct, Tampa Bay is now the NFL's No. 1 destination site.
It's the Brady Effect, and we're a month away from witnessing its glorious ramifications.