Lavonte David Talks Defensive Changes, Negative Bucs Fans, The Super Bowl Feeling & Antonio Brown
February 9th, 2021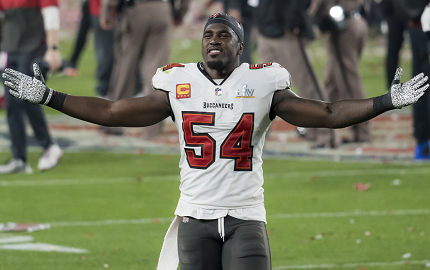 Drew Brees, Aaron Rodgers and Patrick Mahomes. The Bucs just manhandled all three of them in a row and won a Super Bowl.
Of course Lavonte David can't stop smiling.
"It's everything I thought it would be," David told SiriusXM NFL Radio. "The feeling is undescribable."
"Oh, man. To be the first team to win in the Super Bowl in your home stadium. You're going down in history. You're going to be forever remembered. You know, Tom [Brady] had a great speech for us before we came out and we took that and ran with it, man. This [win] right here is going to bring a lot of honor to guys on the team. It's going to bring a lot of honor to the coaches, to the staff, to the organization, to our family members. It's a great feeling to be here. I wouldn't trade it for anything in the world."
Those "honor" lines David referenced come directly from Tom Brady's pregame speech. It was all about honor and everything a Super Bowl win would mean to everyone who touches players' lives.
David, like many of his Bucs brothers, was miffed that the Bucs defense was underestimated. He said shutting down the Chiefs wasn't much more than letting the linebackers play underneath while the rush and coverage executed to prevent big plays — stuff the Bucs have been getting much better at.
"Great team defense. We've been balling all playoffs, man, I don't know why we was doubted. We proved the world wrong tonight," David said. "And for the Bucs fans that stuck with us through all the hard times, we thank you. We appreciate you. And for the fans who, you know, who doubted us tonight whoever they may be, I hope you (laughs), I hope you (laughs again). I want to trash talk but that's really not me."
David closed his chat talking about how great the Bucs locker room was before Tom Brady and Rob Gronkowski arrived to take it to a new level. He went out of his way to say that Antonio Brown was a benefit to that culture, not a disruptive force.
"You hear all this stuff about A.B., but we didn't see none of that in the locker room, man," David said of Brown. "He came in. He fit in with what we was doing. And he was able to get on train, man. And that's why we here now. Everybody played a part in this."