Bargain Buy
February 9th, 2021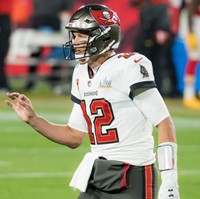 Sure, it was a gamble when Team Glazer, Bucs AC/DC-loving general manager Jason Licht and Bucs coach Bucco Bruce Arians brought Tom Brady to Tampa Bay. Dude was 42 [at signing] after all.
That gamble hit the jackpot. Joe sincerely believes without Brady this team is not near a Super Bowl. Reading Albert Breer of SI.com, that may actually be an understatement.
From Breer's research and perspective, it seemed Brady not only wanted to play quarterback, he wanted a hand in molding the team. Sort of like an extra coach.
And what the Bucs got in return was not only a tireless worker who is one of the best who ever stepped on a football field, they got both a coach and an attitude adjuster who spent time individually on various teammates to get their minds right and help them become their best football selves.
The roster in Tampa, to be sure, had pieces. But to Brady, that was just half the equation. The other half would be on him. He wanted the chance to show guys how to work, how to push themselves and how, ultimately, to become capable of playing the kind of football that wins on a stage like [the Super Bowl].

And… all those ideas came alive. That loaded Bucs roster was also efficient and running on all cylinders when it mattered most. The defense was really good—the first to hold a Mahomes-led offense out of the end zone in any of the phenom's 54 starts as a pro—and the run game (33 carries for 145 yards) was way more than a sidecar to Brady and his galaxy of pass-catching stars. …

The team that couldn't get out of its own way on that Thursday night against the Bears was long gone, as was the one that twice got beat down by Drew Brees and the Saints, and the one that sleepwalked through the first quarter against the Chiefs in Week 12. Brady had stayed on them, of course, but he'd done it in a way that showed an incredible amount of investment in each guy as an individual, beyond even what they could do as players.
This will likely never happen, but Brady is a guy Joe would love for Team Glazer to sell a piece of the team to whenever he retires, so that Brady can help formulate and guide new players that come into One Buc Palace.
Brady will never be a coach. Way too much work and he doesn't need the cash (remember how he told Howard Stern his wife threatened divorce if he went to OTAs with the Belicheats?). Brady just bought a new pad in an ultra-exclusive island in Miami. He co-owns a Hollywood production company. Brady seemingly already has his post-playing days mapped out.
The way Brady helped shape his new teammates to become world champions, that's a guy Joe wants to stay involved, even if that is only part-time.