John Lynch Is A Hall Of Famer; Year 8 Ends The Wait
February 6th, 2021
BY IRA KAUFMAN
The wait is over for John Lynch. For Rondé Barber, it's just beginning.
Barber will have his day in the Hall of Fame selection room, but Lynch will be celebrating his big day this August, surrounded by family, friends, former teammates and legions of Buc fans who make their way to Canton.
For two weeks, Lynch has known that he is one of five modern-day candidates who will be enshrined, joining Peyton Manning, Charles Woodson, Calvin Johnson and Alan Faneca.
That's quite a class, one of the best in the Hall's 58-year history.
In his fourth year of eligibility, Barber finally advanced to the group of 15 finalists. It shouldn't have taken that long, but Barber is likely to return as a candidate for the Class of 2022 and his day is coming because he just might be the most complete cornerback this league has ever seen.
Lynch has been in ecstasy since Hall of Fame President David Baker flew out to his California home and knocked on the front door on Jan. 24.
"I almost sank to my knees when I saw him," Lynch told me. "I couldn't believe it."
Thirteen seasons have passed since Lynch took off his NFL uniform for the final time. Soon, he will be fitted for a gold jacket.
For two days, Linda Lynch knew her husband was getting a bust in Canton. She was sworn to secrecy, but the Hall called her because Baker wanted to make sure John Lynch was home on that fateful Sunday.
So for 48 agonizing hours, Lynch's wife stayed mum. She didn't want to spoil the surprise and when Baker showed up with his film crew, John Lynch found himself totally unprepared.
That never happened on a football field.
Within an hour, head coach Kyle Shanahan, CEO Jed York and other members of the organization began a steady procession to the home of the 49ers GM, touching off a raucous celebration.
Yes, it had been worth the wait.
For each of the past eight years, I presented Lynch as a Hall of Fame nominee. This time around, there was a different level of optimism as 48 selectors met virtually on a Jan. 19 Zoom call instead of congregating in person on the day before the Super Bowl.
Following my 5-minute presentation, Lynch received support from 10 additional voters, including new selectors Tony Dungy and Bill Polian. That level of widespread advocacy is rare in a Hall of Fame meeting, generating a positive vibe.
But you never know.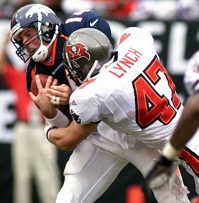 Now, it's official — John Lynch finally broke through after years of disappointment.
I can't wait to head up to Canton in August to witness Lynch's induction speech. You can bet that Dungy, the Glazer family and many former teammates from Tampa Bay and Denver will be there to cheer on the 9-time Pro Bowl safety.
Some Bronco fans will undoubtedly make the trek, but they will be drowned out by Buc supporters who will never forget the key role Lynch played on the best defense of its era.
Lynch joins Warren Sapp (2013) and Derrick Brooks (2014) as modern-day Bucs in the Hall. If, as John Madden suggests, those busts talk to each other at night, you will soon hear Tampa Bay's three amigos chanting in unison:
POUND THAT ROCK.
Next Up
Simeon Rice is still waiting for an opportunity to have his compelling case heard in the Hall of Fame room. The good news is Barber just made the big leap from one of 25 semifinalists to the final 15. I'd be surprised if he's not back in the room where it happens next year, when the Super Bowl shifts to Los Angeles.
The more you look at Barber's unique career, the more there is to marvel at. He should gain more traction in 2022, when the group of first-year eligibles is led by DeMarcus Ware, a 9-time Pro Bowl linebacker who averaged 11.5 sacks during a 12-year career.
Lynch will be in the stadium Sunday, introduced before the game along with his fellow inductees. The ovation should be long and loud for an iconic Buccaneer who will be the first to tell you it was worth the wait.
Next stop, Canton.