Clyde Christensen Shares A Reason Tom Brady Left New England
February 24th, 2021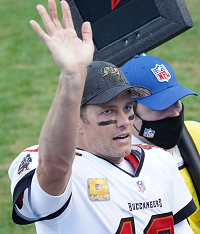 Buccaneers quarterback coach Clyde Christensen can handle the truth, but he agreed only to share part of it with NFL fans.
During a visit to CBS Sports Radio this week, host Zach Gelb asked Christensen point blank if Tom Brady told him why he bolted from the Patriots.
Christensen agreed to share a little.
Zach Gelb: Did he ever open up to you about why he elected to leave New England?

Clyde Christensen: Yes. The answer is yes. And the part that I'd share with you probably would be, you know, there was a part of him the first time I met him, and I had never met him before we picked him up. … He said one of the things that looked really fun and challenging to him was what Peyton [Manning] did at Denver. Like kind of the same scenario [in Tampa]. … There was something about that challenge that hit [Brady] right. 'Hey, I'm going to go see if I can do this again somewhere else.' I do think that the challenge of that was a huge thing for him. … He's mentioned several times that he was impressed [with Manning's accomplishments in Denver] and that looked fun and challenging to him.
After hearing that, the optimist/pessimist in Joe thinks, 'What happens when Brady wins another Super Bowl in Tampa next season, would he want a third-team challenge?'
Brady on the Jets in 2022 would be quite a spectacle in the AFC East.
Back to reality, Christensen went on to add that Brady seeks challenges in practice and it really stood out to Christensen again — after the Bucs' glorious Super Bowl victory.
This week, Christensen said he was cutting up film of Super Bowl week practices, specifically individual QB drills and throws. Something jumped off the screen.
"[Brady] worked like there was only one uniform left and three guys were fighting to get the thing for the Super Bowl," Christensen said, adding that Brady easily could have rested up for the big game but "that's not the mentality."