"Jamel Dean Day" Declared
February 22nd, 2021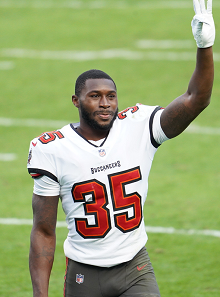 If you're looking for the Buccaneers cornerback who led the team in tackles per snaps played last season, look no further than No. 35.
Jamel Dean knows how to wrap up, and the 2019 third-round pick out of Auburn wrapped up his second season with a Super Bowl ring and a year of good development. Yeah, Dean had his highs and lows, but that was no surprise and he certainly played solid ball in the playoffs.
Dean's Florida hometown of Cocoa was so impressed, the Indian River community declared February 7 to be henceforth named "Jamel Dean Day."
And on Saturday, Dean was given his own rally and officially got the key to the city.
Local TV reports said hundreds attended.
"He's the best thing that ever come from the Dean family," said Dean's cousin Johnny, per News 6 TV in Orlando. "First and foremost, he graduated from college with honors before even making it to the NFL."
Joe loves these kinds of stories, and Joe hopes it inspires honored Buccaneers to work even harder.
Ahhhh, the power of the Super Bowl. If the Bucs had lost to the Chiefs, Dean might have only ever gotten a parking ticket — and a thank you for volunteering — from his hometown officials.