Gronk Says He's Already Hungry For Next Year's Super Bowl: "Pretty Crazy"
February 10th, 2021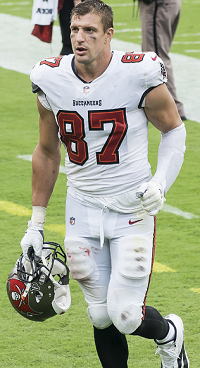 Rob Gronkowski continued on the late-night talk show circuit yesterday and one football nugget emerged.
Gronk told Jimmy Fallon that he has surprised himself because he's already started thinking about the 2021 season and how the Bucs can win another Super Bowl.
Pretty cool from a guy who was retired and professional wrestling a year ago.
"Obviously, we just won it all," Gronk said. "But, you know, it's already two days past the game and I'm already thinking like, man, 'What's it going to be like next year? Can we make it back? What do I gotta do?' That's already in my mind. Pretty crazy."
Gronk reminisced about his early days with Brady and he explained that Brady "won't take no for answer" when he asks players to put in extra reps during or after practice.
On The Late Late Show, Gronk added that since the Super Bowl he's been feasting on all sorts of non-Brady-friendly foods like burritos, hamburgers, tater tots and sweet potato fries. "You name it; I've been eating it for the last two days."
Joe was told the Gronk was an early arrival for today's Super Bowl boat parade in Tampa. No surprise. Gronk loves a party and explained on The Late Late Show how much he loved the Super Bowl streaker and that the Chiefs should sign him since he scored a touchdown.
Have fun today, Gronk. See you at training camp.