Devin White Plans To Circle The Stadium On His Horse
February 9th, 2021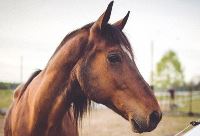 Yes, Joe realizes the government might get in the way of this great plan already approved a Bucs official.
Joe's unfamiliar with equine mask protocols and whatever ordinances may outlaw fun in Tampa.
Buccaneers savior linebacker Devin White took to Twitter today to ask Buccaneers general manager Jason Licht for permission to saddle up his horse Dream and ride around The Licht House with the Lombardi Trophy.
The GM dealt a quick answer, which can be seen below. He's all for it.
Joe loves this idea. But Joe thinks the city of Tampa should make it a bigger ride.
Let White park his mobile stall at Bill Currie Ford a mile north of The Licht House, close off Dale Mabry Highway for five minutes and let Dream gallop to the site of Buccaneers history. Maybe Cameron Brate could walk his famous dog Archie around the stadium at the same time while Licht drags his mutt out of the house so it doesn't soil the kitchen like it did on draft night.
It's great to be a Bucs fan, great to be alive.
You earned it, cowboy! Giddy up!!! 🏆 🐎 @Buccaneers https://t.co/GtlS6TfJwq

— Jason Licht (@jasonrlicht) February 9, 2021