Devin White Talks Reciprocal Teaching With Lavonte David, $1,000 Contests
February 1st, 2021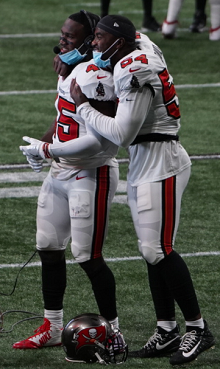 Devin White loves the camera. Lavonte David once publicly vowed to avoid the Hard Knocks film crew.
The Bucs' dynamic inside linebacker tandem is the Odd Couple of Bucs football.
But like on the Odd Couple, whether you prefer Thomas Lennon/Matthew Perry or Tony Randall/Jack Klugman, David and White are extremely close and have learned a ton from each other.
White was asked about their different personalities today during the wacky online version of Super Bowl Media Day/Opening Night.
He talked about how quiet and reserved David is, but then White opened up about how much David mentors him, and how White returns the favor with young energy — and cash incentives for performance.
"He done taught me a lot, still teaching me a lot. And I'm teaching him something, too," White said of David.

"You know, especially like it's always that mentality like, 'Beat me to the ball. Get more tackles than me. Let's see who can come up with the biggest play first. You know, whoever come up with the biggest play that person gotta pay the other person $1,000'. Just little stuff that I'm able to throw into our game to make it more interesting, as well.

"But man, from the classroom to off the field taking care of yourself, taking care of your body, making sure you're available for every game, he done taught me a lot and I can't thank him enough."
What a duo they are, widely considered the best inside linebacker tandem in the league.
Damn, if $1,000 motivates White, then maybe each guy should agree to up the cash to $20,000 and see what happens.