Chris Godwin: "I'm Not Stupid"
February 23rd, 2021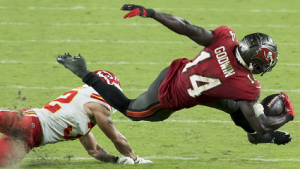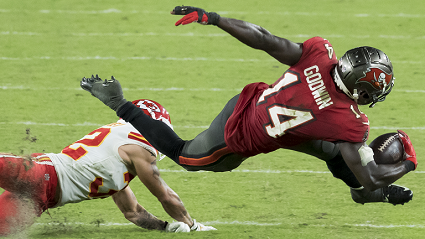 Joe loves a great story Bucs GM Jason Licht told years ago about rookie Chris Godwin, and it ties to when former Lost Decade quarterback Ryan Fitzpatrick paid Godwin the ultimate compliment.
In short, Licht explained that after Godwin was drafted, on his own, Godwin immediately locked down housing for himself in Tampa and had made all kinds of other personal arrangements. By the time the Bucs staff dedicated to getting rookies settled honed in on assisting Godwin, he already had everything set.
That's extremely rare for a third-round pick from the northeast, and it was nearly as special as when Fitzpatrick called Godwin a once-in-a-lifetime rookie.
"He was really a veteran presence as a young receiver, which has never happened in this league," Fitzpatrick said in 2018.

"So that was great. And he's got to continue to get better. He can make a 10-year career out of the way that he played last year. But I don't think he wants to settle for being a guy that's going to a role player, that's going to be a good No. 2 or No. 3 receiver. At some point in his career, he's got to strive to be that No. 1, go-to guy. And he's just going to continue to get better and better. And I think I see that in him, too, his drive and his willingness, whether it's in the film room or after practice the way that he works out here; it's really impressive."
Fast-forward to this afternoon, and Godwin is a Pro Bowl receiver who wants to be paid like a No. 1 receiver after finishing his four-year rookie contract.
Godwin is one of the top free agents on the market, and that's why he got an invite to today's edition of The Pat McAfee Show.
Godwin explained that he's smart enough to see how good he has it in Tampa, though money will speak loudly.
"Dude, the goal, obviously, is to get paid, right? But the same time, I'm not stupid," Godwin said.

"Like I'm not going to put myself in a situation where I'm going to be miserable for some years to come just for a couple extra dollars. I think my happiness is paramount in all of this, you know, and part of that happiness is winning. And like you said, having a bunch of different guys on the offensive side that can make your job a little but easier, but also give you the best chance to win is something that I'm strongly considering. It's a big reason why I want to be here [in Tampa]. I know I can trust my dogs when it's time to go to battle."
The Bucs could slap the franchise tag on Godwin for about $16 million in guaranteed cash for 2021. So that's an option on the table, even if Godwin might be disappointed by the Bucs not offering him a long-term deal. Lesser receivers are earning close to $20 million per season.
Now it's just an agonizing waiting game for Joe and fellow Bucs fans.
On a funny note, Godwin told McAfee that he loves Bucco Bruce Arians in part because he'll tell you when "you're playing like sh*t."