Bucs-Bears Or Bucs-Bills On 2021 Opening Night?
February 8th, 2021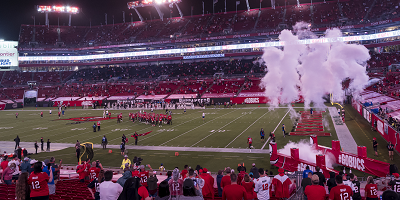 One crazy fun perk of being Super Bowl champs — in addition to telling your friends that your team is freakin' Super Bowl champs — is that the Bucs will open the 2021 season at night and at home (aka The Licht House) expected to be Thursday, Sept. 9.
It's NFL tradition, granting the honor to the Super Bowl winner and its fans.
So who will the Bucs play?
Joe doubts the NFL and TV networks will choose a foe from the NFC South. Frankly, they all might suck next season.
That leaves the Bills, Bears, Cowboys, Dolphins and Giants as the remaining home opponents.
Joe suspects the networks won't burn the guaranteed national draw of the struggling Giants and Cowboys on that game. Heck, it's going to draw big eyeballs regardless, so why not go for a more attractive football matchup.
A Bucs-Bears rematch would be a heck of a draw. The big-market Bears are solid and could be very interesting with a free agent quarterback, Jameis Winston? And Bucs-Bills would be a monster of a game for football-starved fans after a long summer.
Joe's going to throw 20 bucks down on Bucs-Bills kicking off the season.