Bruce Arians Says Donovan Smith Has Found Consistency
February 2nd, 2021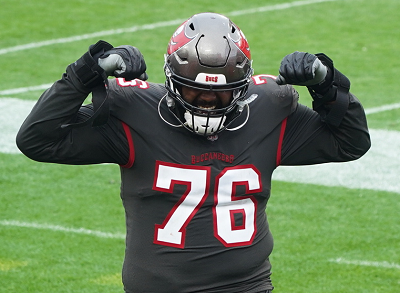 Super Bowl LV, aka the Bucs' next home game, will be Donovan Smith's 98th NFL start. And it seems Smith has found what many quality veterans eventually do.
That would be consistency.
Smith, a left tackle too many Bucs fans used to think was hot garbage, is only 27 years old and has found his best football at just the right time.
Bucco Bruce Arians talked about it last night on SiriusXM NFL Radio.
"I love the way Donovan finished the season and went into the playoffs," Arians said. "I mean he became a very consistent player. Normally his reputation is of being an up-and-down guy, but he has been super consistent and is being the left tackle he is capable of being."
Joe realizes that even in the ecstasy of a Buccaneers Super Bowl week, a sect of Tampa fans wants the Bucs to dump Smith and his giant salary next month so the team can preserve salary cap room and re-sign the vast majority of its free agents.
Joe would be stunned if that happened, especially if Tom Brady has a say.
Next season is the last of Smith's three-year contract. Joe could see the Bucs re-working and extending Smith's deal to have more cap flexibility in 2021.