Bruce Arians And The 30 Club
February 25th, 2021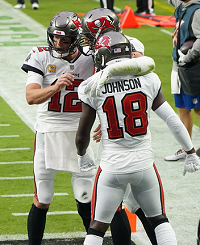 Bucco Bruce Arians sounded yesterday like a man who can see the numbers clearly.
Below is a list of NFL Teams averaging 29.9 or more points per game over the last 11 regular seasons:
Every single one made the playoffs, and Super Bowl winners are on the list in seven of the 11 years.
Think that's a coincidence? It's not.
2020 Buffalo 29.9, Tampa Bay 30.8, Green Bay 31.5
2019 Ravens 33.2, 49ers 29.9
2018 Chiefs 35.3, Rams 32.9, Saints 31.5
2017 Rams 29.9
2016 Falcons 33.8
2015 Panthers 31.3, Cardinals 30.6
2014 Packers 30.4, Broncos 30.1
2013 Broncos 37.9
2012 Patriots 34.8, Broncos 30.1
2011 Packers 35.0, Saints, 34.2, Patriots, 32.1
2010 Patriots 32.4
In what was an unheard of display of firepower, the Bucs not only averaged more than 30 points per game in last season's four playoff games, they scored 30 or more in each one.
Arians said yesterday that keeping his defense together via re-signing players is the free agency priority because Arians knows the team will score plenty of points. Presumably referring to the his offensive roster, Arians said, "Whatever's left we'll score enough points, so it's a matter of keeping the defense as solid as we can."
Joe agrees, but Joe's not against getting greedy. If the Bucs can fortify the improving offense and jack their total up to 33 points a game, that would lessen the pressure on their defense.
Ringing in Joe's head is an underrated comment from Todd Bowles on SiriusXM NFL Radio after the Super Bowl. Bowles talked about how a massive difference in the game was playing defense with a lead.